The world's most advanced security x-ray system
Our main product setup is the Soter RS full body scanner. Additionally you might choose for the Soter TS that specifically scans the torso area. We highly recommend to always add the Central Database, for it provides valuable management information.
Soter TS - The torso specific body scanner
If it's there, the Soter TS will uncover it. Fast and accurately. Like the RS, the Soter TS sees absolutely everything, from metals to organics, woods and plastics. What sets the Soter TS apart is that it specifically scans the torso area, making it particularly suitable for detecting swallowed items.
It does so, by distinguishing a clear difference between human tissue and other materials. Thanks to the Soter TS, no contraband (such as drugs, cellphones or weapons) will ever escape your attention.
Specifically for torso scanning
Minimal footprint
Find all swallowed items
Detects all types of contraband
The highest available image quality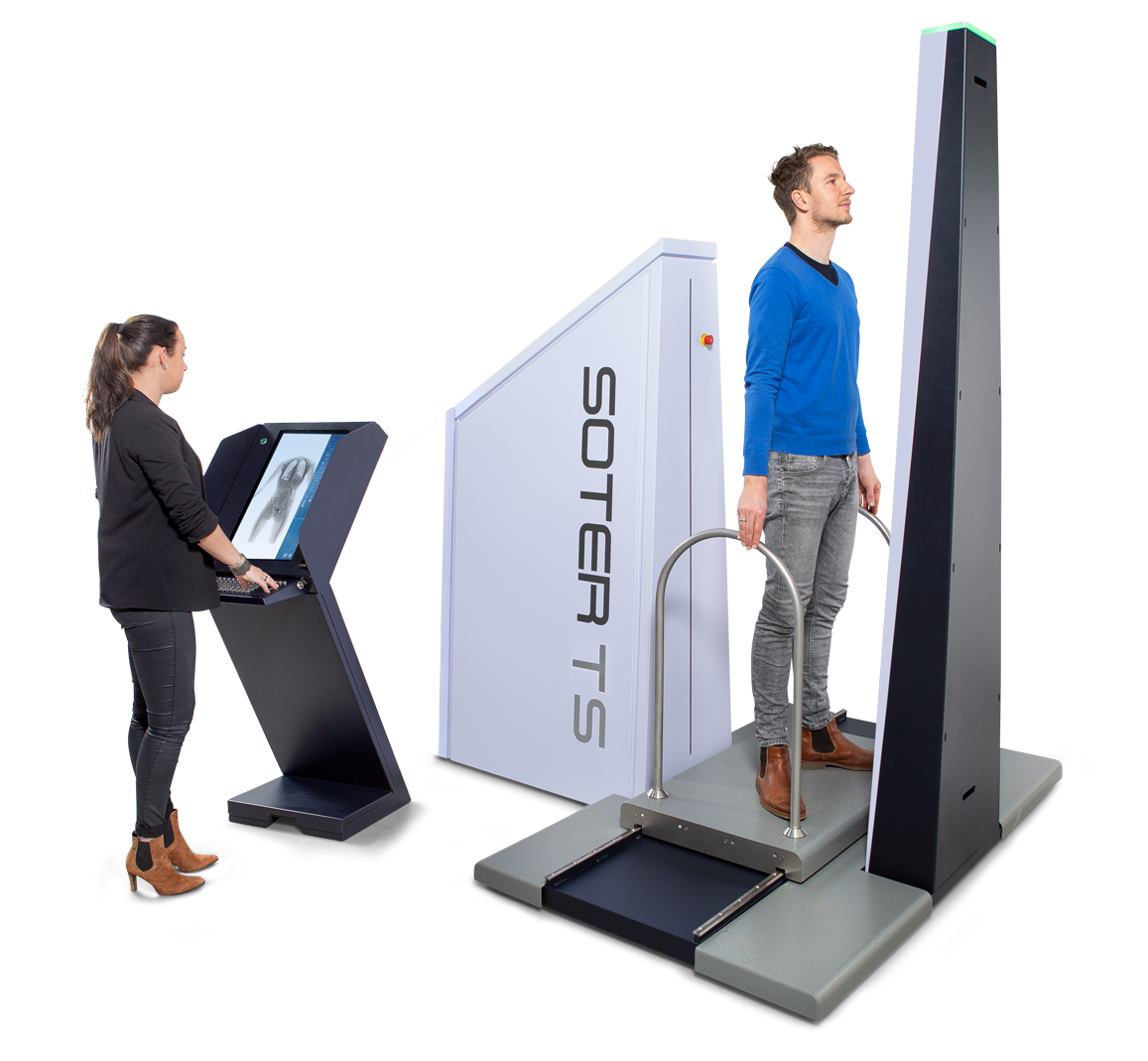 Specifications
SCANNER SPECIFICATIONS

General scanning device
Soter TS
Dimensions
H 2300 x L 1900 x W 1750 cm
Operating temperature
0 - 45 ̊ Celcius
Humidity
10% to 90% non-condensing RH
Sound pressure level
<40 dB
X-ray dose/inspection
0,2 uSv up to 2,5 uSv
OPERATOR CONSOLE

Monitor
23" Multi touch screen
Identification & authentication
Biometric reader
Image resolution
1792 x 4450 (V x H) px.
SOFTWARE FEATURES

Various filters for analyzing the image
Highly secured database with:
• Multiple report functions • Dose limitation • Encryption • Data import & export • Simulation / random scan
OPTIONS

Bi-directional central server database with optional:
Data exchange, adjustable to network speed
Operator console is available in three versions:
Desktop, stand alone or wall mounted
Connected landscape monitor with detailed close-up view
Desktop computer with viewer software connected to the Soter TS by Ethernet
Tablet with viewer software, wirelessly connected to the Soter TS